Watercolour paint is made from finely ground pigment bound together with gum arabic.
Historically, pigment was produced using naturally occurring minerals and gemstones. It still is today.
But in addition, modern chemistry has now made it possible to manufacture pigments synthetically.
Some minerals and gemstones are harder than others - lapis lazuli for example, which forms the source material for Ultramarine Blue.
It is this harder, denser, variegated type, which cannot easily be ground into an even fine powder. Some paint particles therefore remain bigger and insoluble in water. Some earth pigments contain particles of 'grit' from certain clays, which again, are not easily ground into a fine soluble powder.
Granulation is a term describing how naturally occurring particles of pigment adhere to the surface of watercolour paper leaving visual texture. It occurs when coarser, heavier, insoluble particles, separate from finer soluble particles. These insoluble granules collect in watery pools, most notably on textured paper. This creates a mottled, speckled surface.
The 3 types of watercolour paper – rough, cold press, and hot press, will modify the visibility and optical intensity of granulating paint.
The ratio of water to granulating paint will also create variations in visual texture.
Winsor & Newton produce an extensive range of granulating watercolour paint.
A small selection can be found here:-
Blue :  Cerulean Blue, Cobalt Blue, French Ultramarine, Smalt (Dumont's Blue).
Red :  Cadmium Free Red, Cadmium Free Deep Red, Rose Madder Genuine.
Purple :  Cobalt Violet, Permanent Mauve.
Yellow :  Lemon Yellow, Lemon Deep Yellow.
Green :  Cobalt Green, Viridian, Terre Verte.
Earth colours :  Brown Ochre, Raw Sienna, Raw Umber, Yellow Ochre.
Black :  Ivory Black, Mars Black.
Most modern synthetic pigments can be ground into a fully soluble, even powder, and leave smooth even washes of colour. Many do not possess granulating properties.
Watercolour Paper & Granulation
Granulation is especially visible and graphic on rough paper – the heaviest of textured paper. 'Sedimentary' pigment sinks and pools in its troughs. Rough paper has the deepest troughs.  As the water evaporates from these troughs and the paint dries, deposits of pure pigment remain. The higher ridges of paper surrounding these deposits, dry a lighter tone. The saturated colour in the dips, surrounded by lighter tones on the ridges is what defines 'granulation'.
Painterly granular effects are also achievable using cold press paper with its medium texture. It will be less pronounced and graphic than on rough, but still distinctly visible, effective, and with great subtlety.
Hot press paper with its smooth flat surface, is more suited to even flat washes and linear detail. But even on this grade of paper, granulation can be achieved when the water-to-pigment ratio is high – meaning watery washes using a granulating paint.
Granulating Texture Medium
Modern synthetic pigments are on the whole finely ground and fully soluble. They generally provide smooth flat washes of even colour.
However, synthetic pigments can be modified to have the appearance of texture with the addition of granulating mediums. These contain fine particles in solution. When mixed with the colour, instead of water, the painted surface will simulate granulating texture.
Some Visual Effects of Granular Watercolour Paint & Illustrations
Granulation can be more or less visible depending on the ratio of water to pigment - the volume of water in the paint mix and the grade of paper.
As more water is added to a naturally granulating paint, the more distinct will be the visible separation between insoluble darker pigment and the tonally lighter watery paint. Watery paint washes will provide greater contrast between intense insoluble particles, and the diluted colour surrounding them.
Two-colour speckled effects can be achieved by over-painting a lighter colour when it's dry, with a darker granulating colour. This is particularly vivid on rough paper.
When two granulating colours bleed together using the wet-in-wet technique, the results can be unpredictable and magical. Colours will bleed into each other and forms will generate unpredictably and automatically.
Granulation is particularly useful when the visual texture is desirable in part of a composition.
For example, it can be used in enhancing representations of stone, concrete, brick, tree bark, muddy paths, moss, lichen, rocks, beaches, rivers, mountains, storm clouds, weathered doors, scuffed floorboards and the like.
Within an abstract painting, it might be desirable to juxtapose a textured surface with a smooth wash. And in collage, textural contrast can be created between cut outs of granulated paint on rough paper and smooth washes on hot press.
Illustration 1a & 1b
French Ultramarine washes on Rough, Cold Press, and Hot Press Paper
The grade of paper affects the separation of soluble and insoluble pigment, creating more or less texture.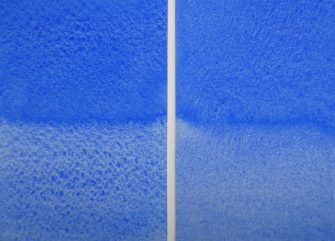 Rough                                         Cold Press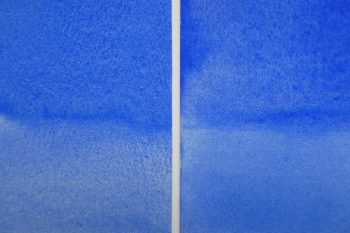 Cold Press                                    Hot press
Illustration 2
Equal density washes of Cobalt Green on Rough and Hot Press paper
Hot press with its smooth surface, tends to leave even washes showing just a little granulation, while the lighter and darker tones are pronounced on rough (left).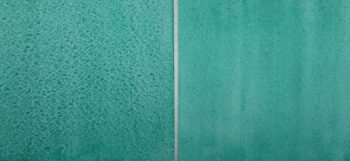 Illustration 3a & b - wash over dry
A Rose Madder wash overlapping an area of dry Raw Sienna
The effect creates both transparency and mottling at the overlap.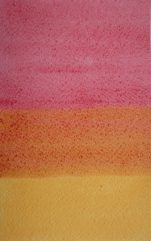 A Smalt (Dumont's Blue) wash over dry Raw Sienna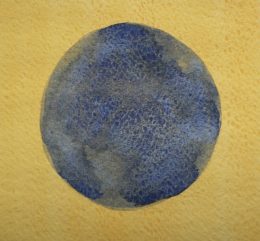 Illustrations 3 & 4. - Wet in Wet
3. Droplets of Cobalt Violet onto wet Raw Sienna on Cold Press paper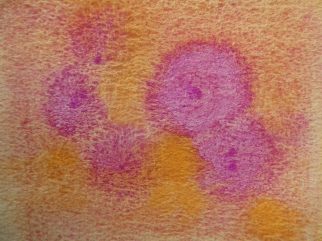 4. Droplets of Smalt ( Dumont's Blue) over wet Rose Madder Genuine on Cold press paper
5. A collage using a diluted wash of Cobalt Violet on Cold Press stuck onto a Permanent Rose wash on Hot Press